The building industry is facing some unprecedented challenges with the spread of COVID-19: building services remain imperative to keep American homes maintained and running and many builders are working to keep the inventory of houses at a satisfactory level heading into the spring and summer months. Following well-established OSHA and manufacturer guidelines along with best practices used to be the key to ensuring the safety of builders, subs, clients and the community, but now contractors and builders find themselves in a new position at the front lines with needing to adapt and adopt new processes and practices to continue safely providing vital services.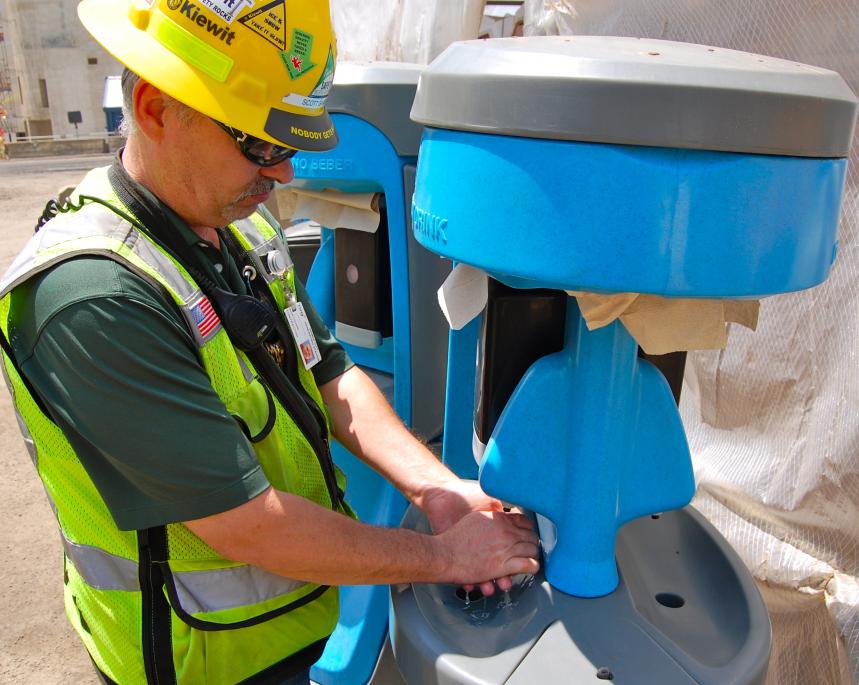 Image Credit: Kiewit Power Constructors
In addition to personal responsibilities and social here are some keys to staying safe while on the job:
Communicate key CDC recommendations to your team and tradespeople.
Place posters and instructions about personal hygiene and distancing at your workplace and job sites.
Clean your workspace and job site routinely, including workstations, handles, door knobs, shared tools and equipment.
Service portable bathrooms 3 times a week at a minimum.
Clean common break areas, lunch rooms and meeting spaces multiple times throughout the day.
Communal food on job sites should be avoided i.e. water coolers, donuts, pizza etc.
Do not share personal protection equipment on the site.
Provide 60-95% alcohol-based hand sanitizer or washing stations on job sites.
Avoid "stacking" multiple trades on a single site when possible.
Clean surfaces of fleet vehicles i.e. steering wheel, gear shift instrument panels etc.
Actively encourage sick employees to stay home.
These are just a few examples of ways building professionals can help manage the health and safety of your company's biggest asset. Your people. As well as your clients and our communities.
Due to the ever-changing nature of the situation, we recommend frequently checking the following resources for the most up-to-date information and guidelines:
https://www.osha.gov/SLTC/covid-19/
https://www.nahb.org/advocacy/industry-issues/emergency-preparedness-and-response/coronavirus-preparedness/Stay-on-the-Jobsite/Safety-Stand-Down
We will get through this challenge together and be stronger on the other side. Best wishes, stay healthy, stay safe.