Engage people who are actively in the buying process. Social media is a great way to reach potential and existing customers, including homeowners, architects, designers, remodelers and builders. Social Media platforms provide an exceptional avenue to actively and passively engage your customers.
Available Offerings
Social Media Audit
Dedicated Social Media Manager
Weekly Editorial Calendar
Monthly Scheduled Reporting
Strategy Development Calls
Platform Artwork and Creative
Platform Account Management
Profile Copywriting
Custom Designed Covers for Facebook and Twitter
Platform Optimization
Status Updates/Posts
Audience Buildings
Social Outreach & Engagement
Content Creation & Distribution
Monthly Competitive Analysis
Review Management
Conversation and Brand Monitoring
Social Advertising
Re-targeting Campaign
24/7 Analytics
All of our social media packages are always customizable based on customer needs.
We also offer Brand Development, Creative Services, Digital Ads, Events, Manufacturer Representation, Market Research, Mobile Tours, Social Media, Training, Virtual Showrooms, and Websites.

What do our clients think? Ask them!
---
Builders FirstSource
Jason Behunin – Director of Sales – NW & Alaska
Jason.behunin@bldr.com
---
Hayward Lumber
Paulo Sitolini – COO
psitolini@haywardlumber.com
---
Honsador Lumber
Eddrin Fajardo – VP Human Resources & Marketing
efajardo@honsador.com
Editorial Calendar
To keep our social calendar organized and provide maximum visibility and cooperation, we use agency software to streamline the process of planning content and getting client approvals. Each week, we will send you a content schedule for the following week when stakeholders can easily approve, deny, and leave comments on content before we schedule for publishing.
Here is where you will see Wheelhouse's supplemental posts for you to approve or leave feedback on.
Reputation Management 24/7 Monitoring
Awareness and responsiveness to reviews is one of the most important elements of your online brand management.
Wheelhouse 20/20 uses best practices to actively manage and respond to your online reviews.
We will help you establish a voice for your online brand persona, a protocol for responding to reviews, including who gets notified and approves responses and make online review management an easy and seamless process so you can stay focused on your business.
Wheelhouse has 24/7 monitoring of all of your social pages in one place, offering complete visibility and efficient management.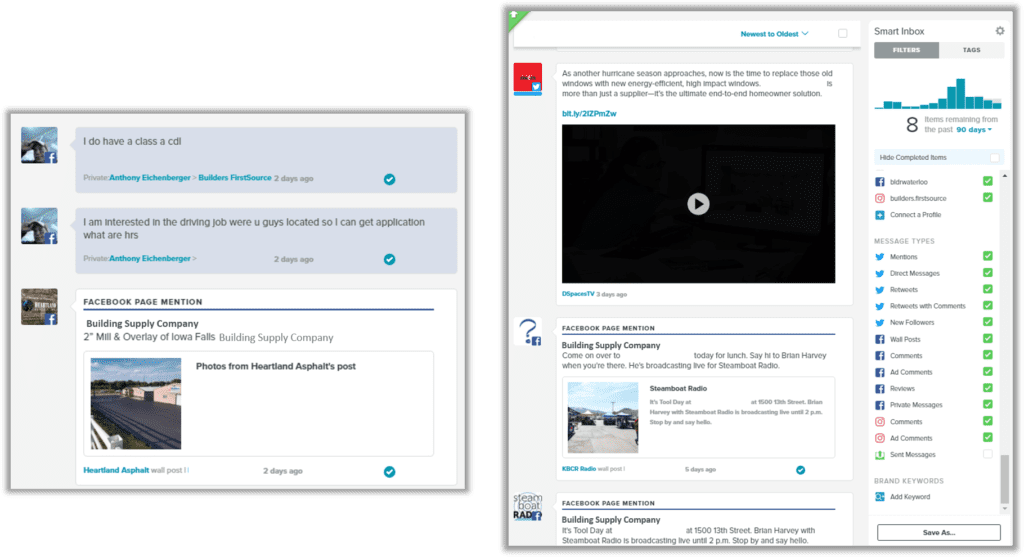 Wheelhouse will claim and manage:
Featured Projects